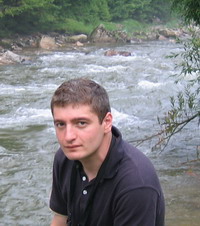 Welcome! My name is Lucian Busoniu and I am a professor with the Automation Department of the Technical University of Cluj-Napoca, Romania, where I lead the Robotics and Nonlinear Control group. I obtained my PhD degree (cum laude) in 2009 from the Delft University of Technology, the Netherlands, and my postgraduate and MSc degrees in Control Engineering, respectively in 2004 and 2003, from TUCluj. In October 2015, I defended my habilitation thesis, conferring the right to independently supervise PhD students; and since October 2018, I am a full professor. My research interests include learning and planning methods for the optimal control of nonlinear systems, in particular online planning, reinforcement learning, and approximate dynamic programming, as well as robotics, multi-agent systems, and other topics.
The other pages of this website contain information about the research and thesis projects I am involved in, a selection of my publications, teaching and course information, as well as a repository containing downloadable material related to my work.
News
January 2020:

SeaClear kickoff and hiring

We are excited to kick off a new EU Horizon 2020 project: Search, Identification and Collection of Marine Litter with Autonomous Robots. SeaClear is a Research and Innovation Action with a total budget of 5 million EUR. In this project, we are hiring 1 postdoc and 2 PhD students, see the description of the positions here.
September 2019:

Invited to Northeastern University, China

Invited professor at the Northeastern University of China, Shenyang.
March 2019:

DISC Winter School lectures

I am lecturing on approximate RL and planning at the DISC Winter School on Reinforcement Learning.
January 2019:

DeepMind talk

I am giving a talk on planning at DeepMind Paris.
Sept 2018:

Co4AIR kickoff

TUCluj is a partner in a newly funded Erasmus+ KA2 project Co4AIR - Computers, Cognition and Communication in Control: A strategIc paRtnership, which kicked off with a meeting at the University of Maribor, Slovenia, on September 27th 2018. See the project website, co4air.eu.
July 2018:

TMLSS lecture

I am giving a lecture on the Basics of RL at the Transylvanian Summer School on Machine Learning.
---
---